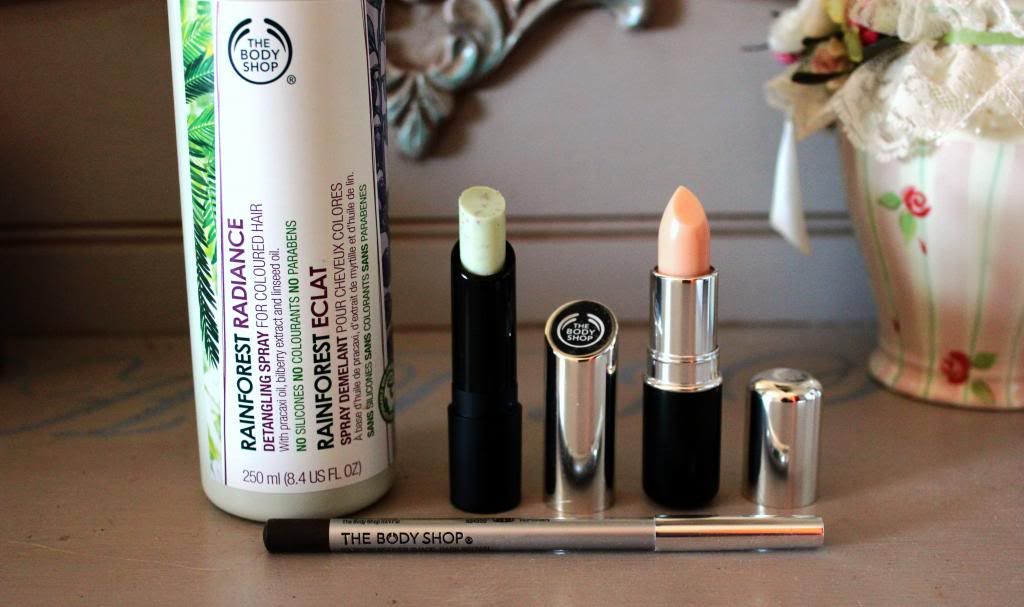 Rainforest Radiance Detangling Spray / Lip Scuff / Vitamin E Lip Moisturizer / Eyebrow Definer in Brunette
I've actually been meaning to put this up for weeks but I've been out of town for a lot longer than I was expecting - so here it finally is. I've never actually used any cosmetics from
The Body Shop
only bath/skincare products so this was kind of just a random pick of products.
Let's start with the good. The
Detangling Spray
was a must because ever since I've starting bleaching the ends of my hair it just gets really insanely knotted and tangled. Now, normally I don't brush my hair when it's wet because it's actually not good for your hair - but sometimes I just don't have time to sit around and wait for it to dry before styling. So, when my hair is wet and I need to brush it out immediately (with a wide toothed comb ONLY - minimal damage this way!) then I spray this all over, under, around, inside my hair (the smell is fantastic) and then it's easy as pie to brush through. I will absolutely 100% be repurchasing this, it's essentially a leave in conditioner that protects colored hair and adds shine AND no parabens, sulphates or silicone!
The next two are the
Lip Scuff
and the
Vitamin E Moisturizing Stick
. So, these are meant to be used one after the other. I suffer from really dry lips and they just peel all the time, even when I use a lip balm or chapstick. My lips just peel. Either that or my skin has a bad reaction and I break out around my mouth. The vitamin E lip moisturizer is the only lip product that I can use all the time without any negative side effects. So, how this is supposed to work is you rub the lip scuff all over your lips and it gently exfoliates and removes dead skin cells. Then, you rinse or wipe off your lips and you're just left with smooth lips but this means nothing if you don't moisturize afterward otherwise you're just going to keep having the same problem. So, then you apply the Vitamin E moisturizer (which is dermatology tested - which is probably why my skin hasn't had any crazy reactions to it) and then whatever lipstick or lip product you're going to use. And voila! I have a feeling this will last me a LONG time but I adore them. I always have them in my little travel makeup bag and will definitely repurchase when the time comes.
And last but certainly the very least was the
Eyebrow Definer
. This product did not agree with me. I used it once and then threw it in my bottom drawer where I keep things to give to friends or family to see if they like it. This pencil was so soft and creamy that it just looked like you smudged on your eyebrows. And it never set for me, even if I tried to set it with a powder (which looked awful lol) if I were to touch them at all throughout the day they would smear. Smeared eyebrows are just an absolute fucking no. Applying it is a task in itself, the pencil is so soft that even the slightest pressure flattens it and makes the tip dull. It's just impossible to make a precise or even neat brow. Just not for me. But all in all, I'd say my haul was successful. I was introduced to three new products which I now absolutely adore and that's fantastic!
Do you have any
Body Shop
products that you really enjoy?